Dizzee Rascal recently said in an interview with NME (you can watch here)  that he could headline Glastonbury. He's not talking headline West Holts stage like he did this year, or even The Other Stage – no, he's talking The Pyramid Stage. The main question that needs to be asked is; Does Dizzee Rascal's name hold enough weight to headline? Short answer is yes, a thousand times over. But let's look at why.
Since emerging on the scene in 2002 with dizzying hi-hats and snares, Dizzee has been held in high regard and received publicity whatever he did. Granted back in the day it wasn't always positive, it included him getting stabbed and also his lyrics on Hold Ya Mouf were talked about in Parliament as he called himself "a threat to Anthony Blair". But that's not just a Dizzee Rascal thing, that's a grime thing – it's anti-establishment, it's urban and it's raw. It's not too dissimilar to what Scorzayzee did with his song Great Britain, and when the upper echelon of UK's parliamentary system hear these things they lose it and condemn the artists, without realising this only causes more dealignment between the youth and them. But enough of UK politics, back to grime's.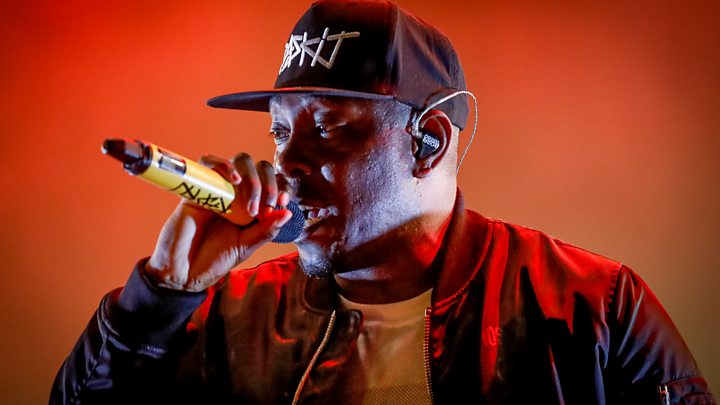 Whilst other artists are recognised by some as being on the same level as Raskit talent wise, it's Dizzee's reach and global stardom that separates him from some of them. Alongside this is his longevity in the spotlight, it was his first release that made not only him but grime as well, a staple of British culture.  Artists like Kano, who have the same longevity and as much talent as him didn't get enough pop exposure to blow up like him. Home Sweet Home was an amazing album as was last year's Made in the Manor, his Glastonbury set was outstanding too but over the years he hasn't been able to match Dizzee. His more pop inspired music didn't make as many waves as Bonkers or Holiday. The pop inspired detour is also another factor as to how he's the only grime MC who could do it, nobody else's music has aged as well as his – the two aforementioned songs still receive radio play as opposed to Kano's Rock n Rolla or Skepta's Sunglasses at Night.
Granted, Boy Better Know are now an esteemed name but there's too much focus on Skepta and even Drake for the rest of them to be able to considered as headliners with the likes of Foo Fighters or Radiohead. Of course I would love to see them headline, but looking at it from a business perspective for Michael Eavis it just couldn't work. Frisco's music wouldn't appeal to some as Boy in da Corner's content does now, even those who aren't the biggest fans of grime would have grown up with Dizzee in their life.
Whilst Stormzy and Skepta are big names now, it feels as though they're too new to be headlining Glastonbury. I know Skepta has been doing this for years and longer than most, but his rise to international stardom really came into prominence in the last few years – compare this to Captain Roscoe's first American show coming in 2004.
Grime/UK Rap has popped off at Glastonbury 2017; AJ Tracey, 67, Kano, Wiley and more all played stellar sets and Boy Better Know headlined The Other Stage. With all this happening it's likely Dylan Mills could very well be playing that headline slot soon. He's got everything on his side including a hyped new album that could steal the limelight off all the other MCs. Whilst grime has been becoming an international sensation, he's kept quiet and he's one of the guy who started the scene. You know he feels he's due some respect the new cats are getting, keep your ears open for that Raskit.
Words by Rohan Parmar. 
Follow @rohanjparmar