In this new series, I look at the contenders for the best mixtape of all time. There's been so many good ones, and due to them not receiving the publicity or promotion that albums get some even unfortunately go under the radar. There is no order in which I do it in, just the tapes I think have a solid case for the top spot so without further ado let's get into the first one…
A$AP MOB – LORD$ NEVER WORRY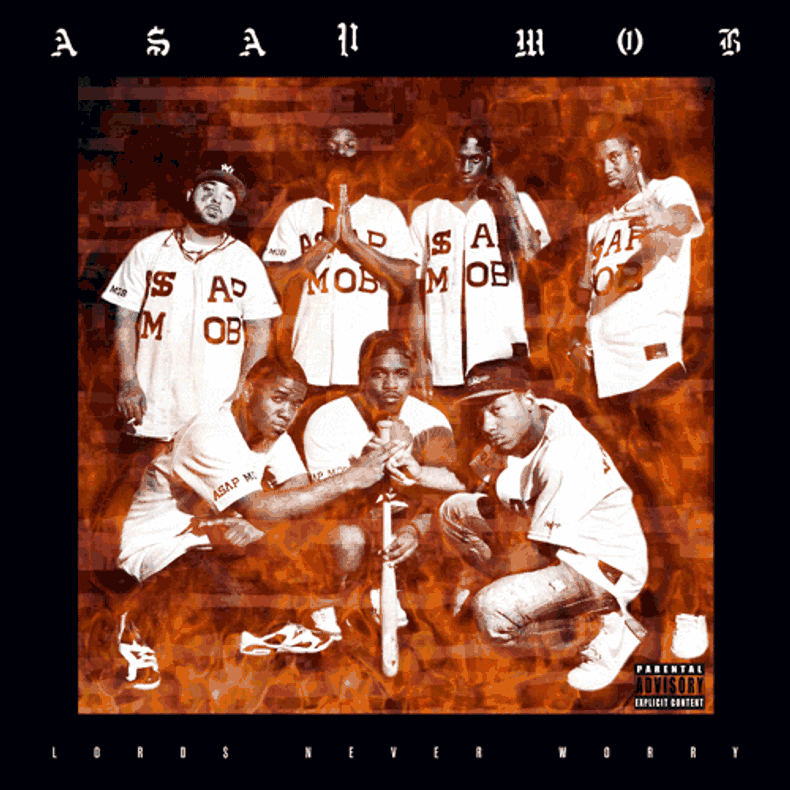 A$AP ROCKY, A$AP TWELVYY, DA$H, A$AP ANT, A$AP FERG & A$AP NAST - FULL METAL JACKET
One of the most talented groups of people in the world is the A$AP Mob, originating in New York this eclectic and eccentric collective shone through on their debut tape similar to how the Wu did back in 1993 with 36 Chambers.  At a time where Odd Future were still atop the underground game whilst breaking into the mainstream, TDE were really finding their feet and the Beastcoast movement as a whole were getting noticed, Chicago had drill rap popping all over the world and Atlanta had trap hitting heights never before seen, Miami's legendary Raider Klan were also still a force to be reckoned with so A$AP Mob needed to be something special to stand out. Step forward Lord$ Never Worry, which takes inspiration from the aforementioned scenes and movements and was something truly special.
Released on August 28th 2012, the climate was a lot different back then to what it is now and even Rocky didn't have even nearly the popularity he does now and he was the biggest house name on it. However, he and the rest of the mob were still riding the wave from Live.Love.A$AP and the whole Purple Swag vibe, so when this came about nobody really knew what to expect. A few of them were unknown and the even the guys that were known didn't have much in their discography. But that's why it's so good, like I mentioned before it's similar to what Wu did. It's similar to Three 6 Mafia and Dungeon Family, it's just history playing out again and it's perfect.
The mixtape is 18 tracks long and each one has something special about it. Whether it be the chill cloud gangster trap hit Persian Wine by A$AP Ferg or the Mobb Deep inspired cut Jay Reed by Twelvyy and Da$H, something new is brought to the table in a way only the Mob could pull off. The mixtape can cater to a wide range of hip-hop fans as it really does have something for everyone and that's a part of what makes it so special, it is a tape that old heads and new heads can enjoy. Hip hop purists or mumble fans, anything and everything hp-hop is on Lord$ Never Worry.
A$AP Ferg - Persian Wine.
Let's talk about the features real quick, because they're super important to this tape and add a whole lot to it. When talking house members on the mixtape, I mean A$AP Mob themselves and the ones on this tape are; Rocky, Ferg, Twelvyy, Ant, Nast and Da$H. A lot of people don't include Da$H as part of the collective but I feel his feature on Full Metal Jacket with the other names mentioned means he was at least at the time of the release part of it, as the song title also serves as a metaphor for all of them being together i.e Full. Again another comparison can be drawn to Wu-Tang with them all coming together to form like Voltron – but that's an article for another day so back to the features. Fat Trel and Gunplay serve as them hard trap heads on Coke & White Bitches II whilst, in the midst of taking over the game and featuring on seemingly everyone's projects Danny Brown also has a feature. Bodega Bamz, another underground name with a lot of buzz and a close friend of Yam$ also appears on the project as well as Flatbush Zombies serving as testament to how tight-knit the Beastcoast movement was. But aside from this, two New York legends also had spots on the tape which helped give it more credibility. Raekwon and Jim Jones. Wu-Tang and Dipset. Arguably New York's two best crews ever had their hand in Lord$ Never Worry and it worked perfectly as Rocky kept his own with Jones on Freeze whilst him and Ferg did it with Rae on Underground Killa$. It's a throwback to times when 'Kwon Tha Chef would feature on a Mobb Deep album alongside NaS and Q-Tip, it was New York working together at a time when they were taking hip-hop back. It's exactly the same here and worked so well.
Production for it was second to none, a plethora of different beats ranging from Houston inspired trill rap to horrorcore to chopped n screwed sounding cuts, the producers were on point when making this. A$AP Ty Beats, VERYRVRE, Clams Casino and P On The Boards were just some of the producers listed and they all brought their a game when making them. Perhaps the best beat is Bangin On Waxx, a perfect sample goes a long way this is evidence – and of course Ferg & Nast killed it.
The visuals put out with this mixtape were incredible too, a string of six videos all with some fantastic cinematography and locations, mixed with their undeniable trend-setting fashion made for some spectacular stuff. Whether it be the horror movie inspired Bath Salt video or the New York street corner set Jay Reed, when watching them you don't want to take your eyes off. The visuals that went with this aren't just videos, but the aforementioned fashion. A$AP Mob have been synonymous with the new trends for the past few years and there's a litany of references to brands in this tape that people wouldn't have even known about at the time like they do now. Ksubi, Raf, Stussy and Prada are among the names mentioned, further illustrating that even five years ago nobody could style themselves like these guys.
The power and influence this tape had was outlandish, ludicrous even. Nobody needed to go on a XXL Freshman list or had to wait whilst another member blew, they all blew. Everybody stood up and took notice of these guys coming in and kicking down the door to pave the way for their own style that hasn't since been duplicated although many have tried. Granted their style may have borrowed a lot from SpaceGhostPurpp and Raider Klan, but these guys added a lot more to it and put their own twist on it. New York began to buzz more from this and every subsequent release by a member of the Mob or even anyone closely affiliated with them started to bang. Retchy P, Underachievers, Bodega Bamz, Flatbush Zombies, Action Bronson, ScHoolboy Q, Danny Brown, Joey Bada$$ – all of these names have benefited off of A$AP's impact due to the fact people wanted to keep up with the trends they were setting. A$AP Rocky was New York's Kendrick at one point and even managed to curate a track with 6 of the best rappers in the world on his next album. Nast got a Method Man feature, Ant and Twelvyy released single after single to critical acclaim. Da$H has not put out a bad mixtape or album since this and Ferg went on to be another big solo star. This mixtape had a hand in launching the careers of a ridiculous number of people and somehow Pitchfork only gave it a 4.9/10.
Granted there may not be a narrative structure in the tape and nothing seemingly blends into the next track, it doesn't matter. It's like mixtapes from years gone by where groups would put everything they had into songs and just put them on let people decide their favourite.
Quotable lyrics:
From the land of the lost of the gully and the gutta
See the Preds made a toast for the honey and the butter
Only die for two things, that's my money and my mother, motherfucker – A$AP Rocky // Bath Salts
We all want that Meech money, gold grill make ya speak funny
My eyes open cause the streets hungry – A$AP Twelvyy // Gotham City
She working at the pyramid, shake her butt for some bucks from Tut
Pharaoh to the marrow, Cleopatra roll my dutch – Da$H // Dope, Money and Hoes
Mama gon' be crying, won't you hear that preacher singing
He be singing like, "Welcome to the crossroads"
Bang 'em, pull the trigger, middle finger when you hear them shots spraying – A$AP Ferg // Full Metal Jacket
Whilst I may not be able to pick a favourite from this due to my sheer love and passion for the record over all, you should definitely check out the whole project here and keep your eyes open for the next part in the series.
Words by Rohan Parmar.